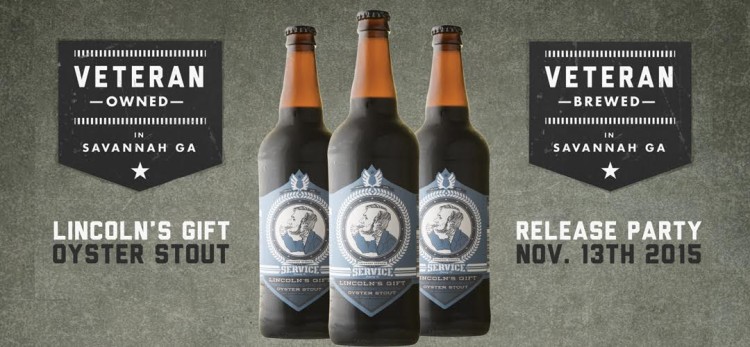 Buy Tickets Now
---
Join Service Brewing Company as we launch our winter release of Lincoln's Gift Oyster Stout Friday November 13th from 5:30p.m.-9:00p.m.
This highly anticipated Winter Seasonal kick-off will include an evening of Savannah Street Eats food truck's Oyster Po' boy sliders and D.J. Mr. Snakes spinning his eclectic vinyl collection from the 70's, 80's and 90's. In addition, a special R&D small batch of Chocolate Strawberry IPA will debut along with Service's year round and specialty beers.
Lincoln's Gift is a sweet stout brewed with over 3000 locally harvested May River oysters, giving this traditional dark beer a slightly briny character.
The event also serves as the kickoff fundraiser for SBC's winter charity, Stop Soldier Suicide, the first national civilian not-for-profit organization dedicated to preventing active duty and Veteran suicide.
$25 Tour Ticket will include:
Savannah Street Eats food truck will provide Oyster Po' boys made from May River Oysters
36 oz of Beer Tasting and Brewery Tour
Souvenir 22 oz bottle of Lincoln's Gift Oyster Stout